Marketers today face the challenge of trying to create marketing campaigns that are easy to develop but can still communicate their message to the right target group and generate a good response rate.
To stand out nowadays, marketers try to reach their audience by using multiple channels in their communications. In successful crossmedia campaigns, a direct mailing piece (Print) is supplemented by, for example, PURLs, QR-Codes, newsletters or videos.
Cross Media Directly Influences Campaign Success
As a study published by the German Digital Economy Association (BVDW) points out that cross media customer communication directly influences the success of a campaign. Furthermore, the case study shows that the advertising effect of crossmedia campaigns is much higher compared to that of single-channel campaigns.
locr Services in the Multichannel Marketing Mix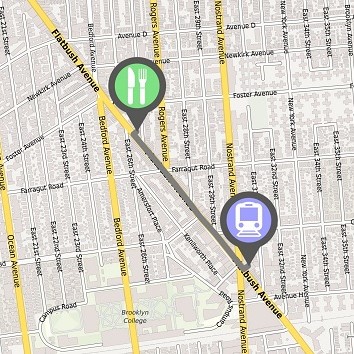 But how can marketers use different media in their campaigns effectively in order to speak to their audience directly and increase the response rates in the campaigns? A printed direct mailing piece would catch the reader's eye by including a personalized routing map. This map can show the route from the prospect's address to the business location. To build the cross media conneciton the mailing could contain a link or a personalized QR-Code to a PURL that can direct the recipeint to a personalized microsite. You can also add additional information like distances, driving and walking times.