PODi published a Case Study about De Bradelei Stores, a group of shopping outlet malls in the UK, who wanted to increase footfall and boost sales in Autumn 2016 by targeting lapsed customers from their extensive database.
Eight Days a Week Print Solutions proposed a geomarketing Direct Mail campaign using locr personalized maps to show recipients the proximity of their nearest store and the route to drive there.
A controlled A/B test with and without the geomarketing components tested the effectiveness of using geomarketing as an overall strategy for retail traffic generation and served as a basis for De Bradelei's future marketing programs.
… The rest received a design with a static fashion image.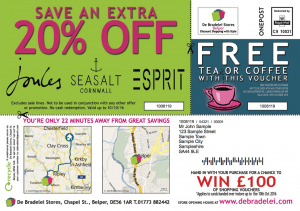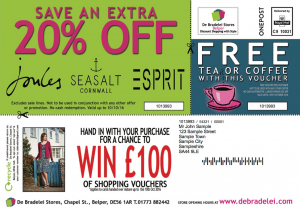 Achieving Results with Geo-Personalization
The response rate of recipients with the personalized geomarketing mailer was 63% higher than those without the geomarketing personalization
Like-for-like in-store sales increased by over 14% for the same period in the previous year
Overall response rate was 1% in the first week
Precisely define your target audience
Use individual design to catch the reader's eye
Make the reader act on your mailing with a good offer like a voucher or discount
Personalization helps you to make a emotional connection to the prospects and provide them with relevant information
Try it for yourself! Run an A/B test with locr personalized maps for your next campaign. Contact us and we'll help you to set it up