Print producer, author and speaker Marko Hanecke from Printelligent talked with Thomas from locr about locr's work. The following interview was originally posted on www.printelligent.de in german language. You can read it here.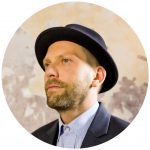 Geomarketing makes printed campaigns more successful.
The use of geographical information in marketing is actually old hat. As a print producer I know: the advertising success of printed campaigns can be significantly increased by using location data. Enriched with a personalized approach – and surrounding maps, print provides real value from adressees and for advertising companies. Although geomarketing offers great opportunities, I rarely see these applications. I think this must change! Because every opportunity that helps to make print more successful, also makes this communication channel more sustainable. I spoke to someone, who knows all about geomarketing in the printing industry, Thomas Schnettler, a geomarketing specialist from locr.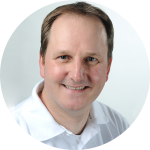 MH: Hello Thomas! You are working at a company called locr, which is involved in geomarketing. What exactly do you mean by geomarketing?
TS: Hello Marko. First of all, thanks a lot for having this conversation today about locr and geomarketing. For us, geomarketing means using location in direct marketing and cross media campaigns. The use of location supports the setup of connections between customers and, for example, a business location or location of an event, based on their geographical location to each other. Proximity and a visual representation of this connection via a map plays an important role. This sounds complicated at the beginning, but it is actually very simple.
Let's take a direct mail example. An advertising company wants to present its new products in one of their business locations. In a nationwide campaign, they want to invite customers to one of these presentations. But the company only has postal addresses and no one can tell which customer they should send to which location. With locr GEOservices locations can be linked geographically. We consider real driving distances and driving times here. In this way the nearest business location can be determined for each customer.
This analysis helps the company to select target groups in their target regions more precisely and to put them in relation to each other. Which customers can reach a location more easily because of their distance? Which customers won't come to the company because of their distance from it? These questions could be answered easily.
To strengthen the visual and emotional connection between customer and business, GEOservices is supported by a so-called NAVImap. This NAVImap is personalized for each customer and shows their personal driving route from their home to the business location. Together with the data from GEOservices, this NAVImap creates a close and emotional connection between the customer and the company in a marketing campaign.
The proximity of the customer to a location is a very decisive factor.
People perceive this visual information in pictures first and capture it within a few moments. For an advertising company this is very important to arouse and maintain the customer's interest. Of course we have a lot more map types besides the NAVImap, e.g. our LOCALmap (location map), MULTImap (this map type is created with several map types) or our VIDEOmap (e.g. an animated driving route as videoclip).
MH: Ok, this is a bit too abstract for me. Can you show me an example?
TS: A good example is our long cooperation with JOSERA, a german pet food manufacturer. The family business from Bavaria has been relying on locr's geomarketing since 2013. Customer addresses are enhanced with individual GEOservices and personalized maps every week. To attract new customers, JOSERA offers sample pet food packs for dogs and cats via their website josera.de. In this way, they get address material which can be geocoded.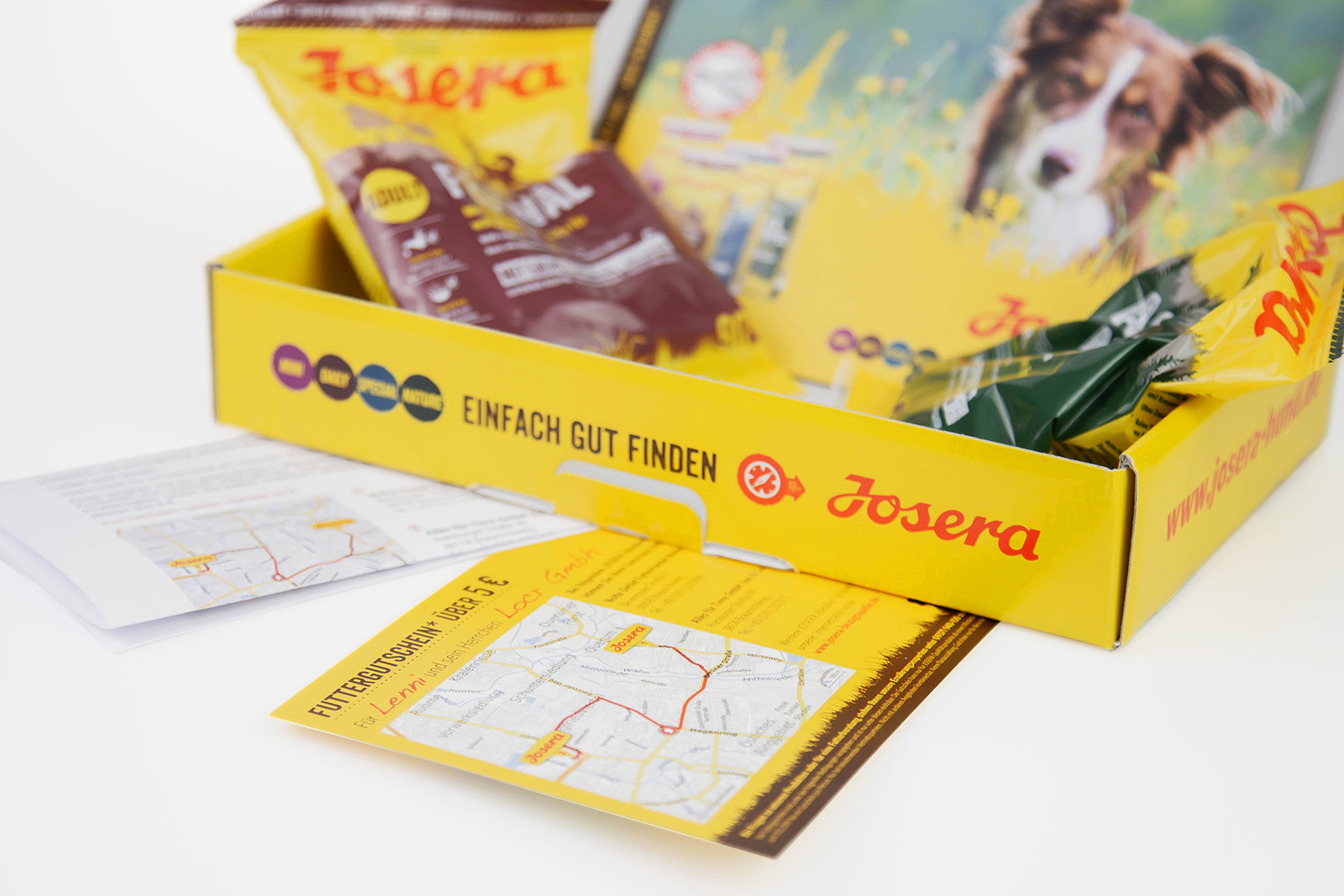 JOSERA RAN A TEST WITH 10,000 ADDRESSES BEFORE THE WEEKLY CAMPAIGNS, AND FOUND AN INCREASED RESPONSE OF 18% IN THE TEST.
The pet food sample packs are personalized by the name of the pet, which is entered by the customer. The pet's name, the name of the customer and a personal letter are included in the sample packs together with two pet food samples. The customer also receives a voucher and a personalized map, which contains information provided by locr. On the map the customer can find the two closest JOSERA dealers in their area and also two driving routes from their address to them.
Geomarketing makes printed campaigns successful.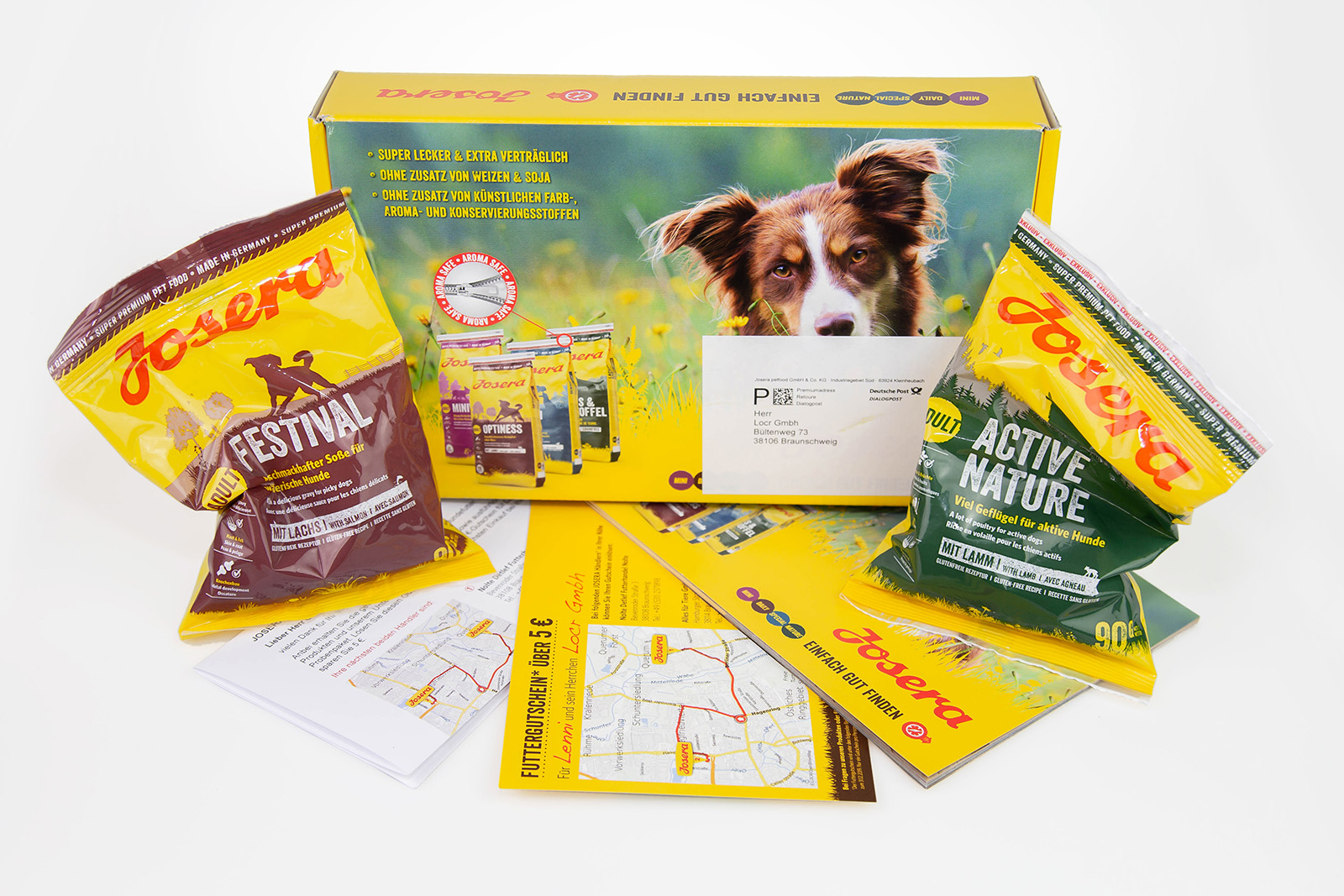 THE RECIPIENTS IMMEDIATELY SEE ON THE MAP WHICH DEALERS IN THEIR AREA OFFER THE PET FOOD.
In this way, the customer can discover new shopping opportunities in their neighborhood, because JOSERA pet food is only available from selected pet food retailers. This is very practical because pet food has to be purchased regularly and so the map and routes can save the customer's travel time and time in general. By redeeming the voucher, JOSERA can also see whether geomarketing works for their customers and they can also see, whether they should build new retailer locations or sales strategies for certain regions. locr's work, in addition to the advertising success of the campaign, also fullfils an analytical task for the company.
Geomarketing also provides analytical information for strategic business decisions.
MH: For which markets does geomarketing work best?
TS: Geomarketing is interesting for a lot of markets. There is no field in which geomarketing cannot be used. We have a very diverse customer base. Among them there are, for example, bonus card providers, retailers, telecommunication providers, car manufacturers, banks, insurance providers, restaurants, magazine publishers, tourism and many more. These are all companies that have understood that their locations are important for their customers. No matter whether it is a business location or an event location. Whenever people need to be moved to visit a location, geomarketing makes sense. In the USA, the health sector is also a major business area for locr.
locr has just published a small ebook with helpful tips on the subject of geomarketing. You can download it here: CLICK
MH: Can response rates really be increased with the help of personalized maps? Are there reliable numbers on this?
TS: Yes, response rates can be increased significantly. Of course, it always depends on the campaign itself. JOSERA, for example, conducted in the run-up to the weekly campaign – which, by the way, has been running since 2013 – a test with 10,000 addresses and found a response increase of 18% for this test.
Geomarketing can significantly improve the advertising success of individual campaigns.
De Bradelei in the UK conducted an A/B test and identified that the response from geomarketing was ⅔ higher than the response to the normal mailing without geomarketing components. The customer AARP from the USA has been using locr's services since 2013 and was able to increase its campaign success more than 50% in the first year of the partnership.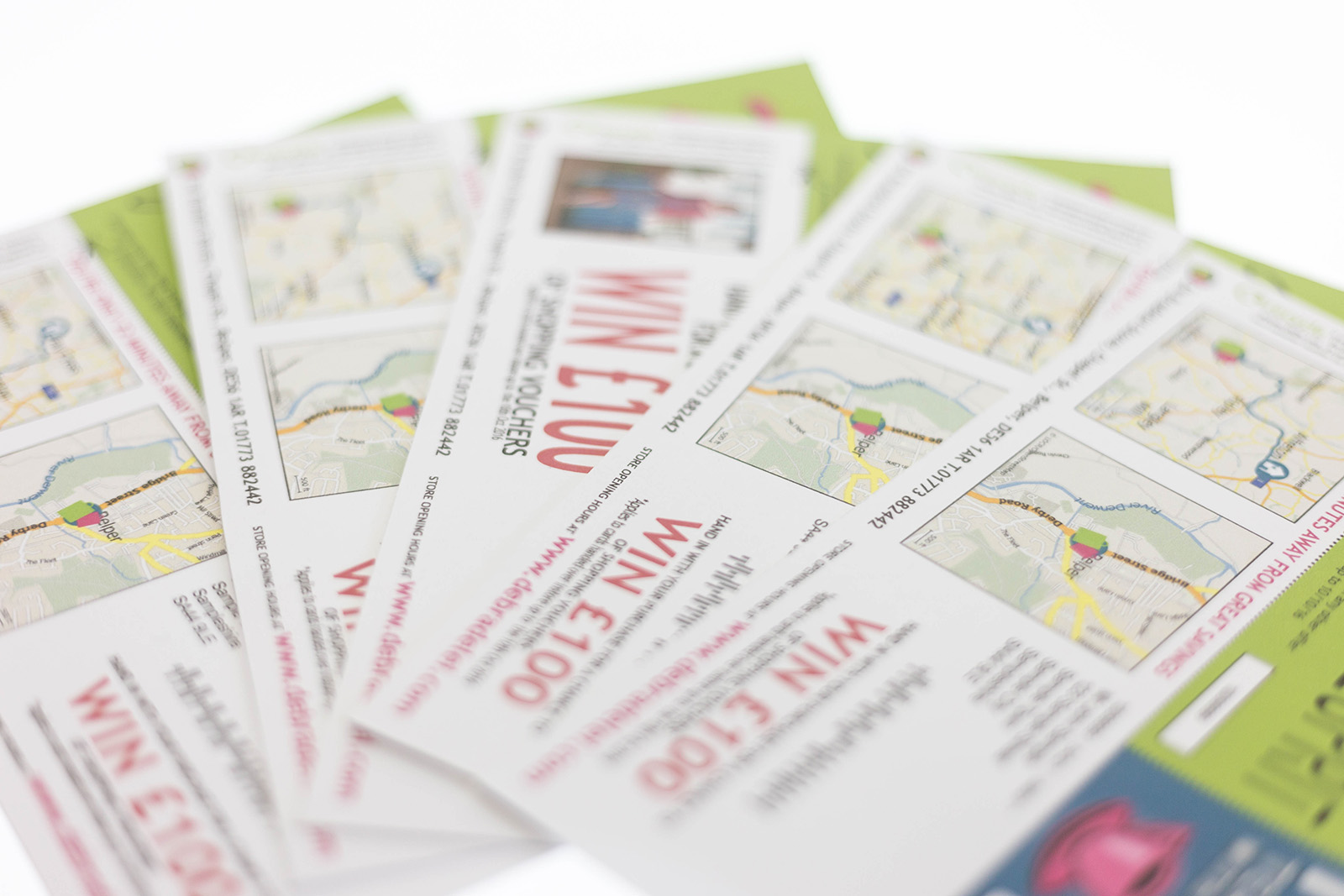 DE BRADELEI IN THE UK CONDUCTED AN A/B TEST AND IDENTIFIED THAT THE RESPONSE FROM GEOMARKETING WAS ⅔ HIGHER THAN THE RESPONSE TO THE NORMAL MAILING WITHOUT GEOMARKETING COMPONENTS.
MH: These are very impressive numbers. Where does the map data actually come from?
TS: We use databases from the world's leading providers of geoinformation and from the OpenStreetMap community. It is important to say that we only use data and generate our maps by using a system we developed ourselves. So we are very flexible in the presentation of information.
MH: Are there different map designs or are they restricted to the known standards as we know them from Google Maps, for example?
TS: Yes, of course there are a lot of different styles, and our colleague Vincent is always coming up with new designs for a lot of different applications. Whether colored, grayscale or two-tone – many things are possible. For example, we have special topographic designs for photo books and travel guides. Of course there are a few designs that work very well in direct marketing because certain patterns are familiar in the eye of the recipient. The big benefit we have is that we don't have so many small pieces of information that you might know from overly detailed Google maps because in our map materials we can omit them.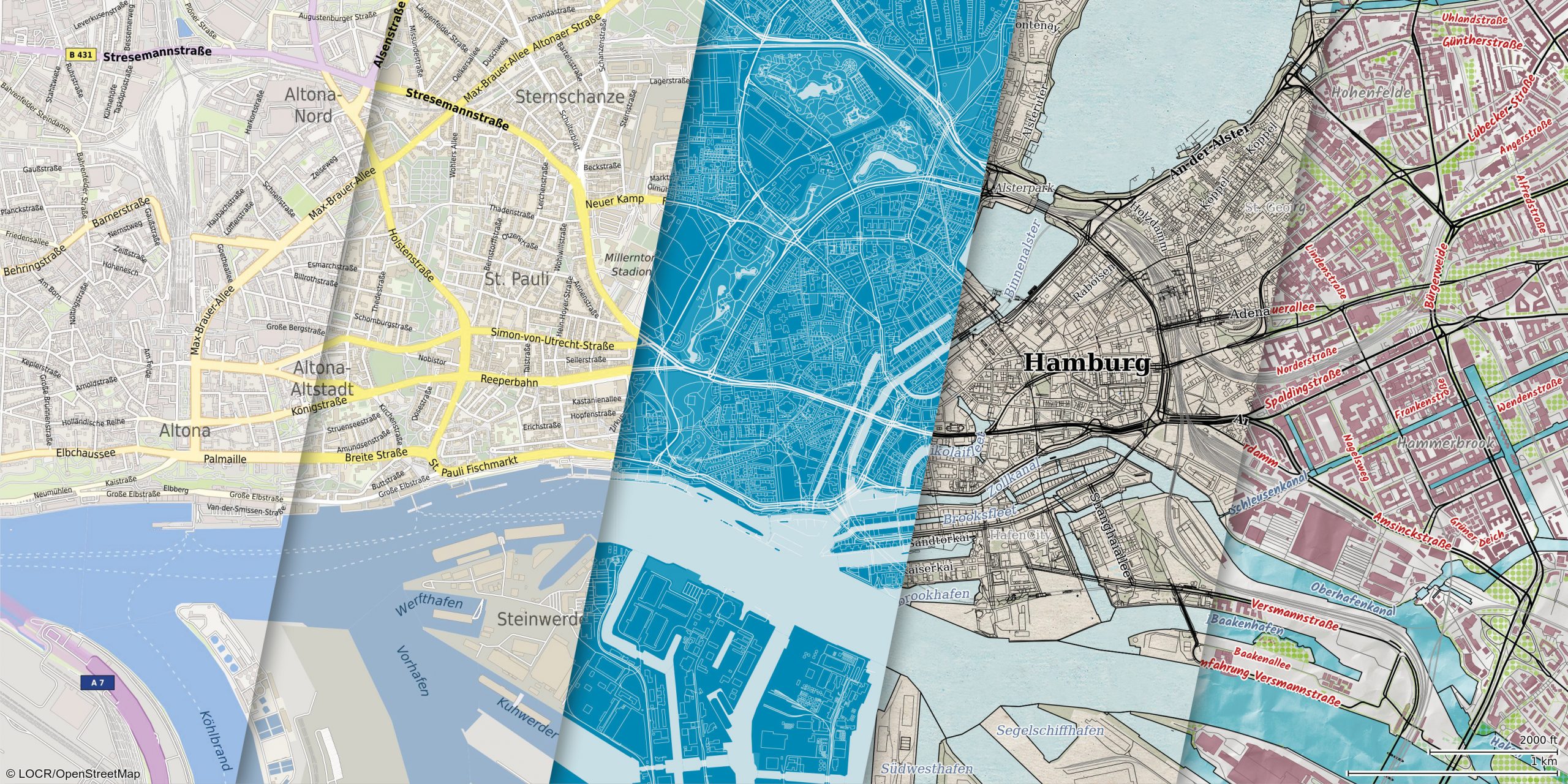 THE RANGE OF DIFFERENT MAP DESIGNS IS BIG
MH: Which data is required? And what about data compliance?
TS: We need address information. For the recipients of the campaign, this includes a unique address ID for each address line (the subsequent map image is also named after this ID), street, house number, postal code and city. Preferably in an excel sheet or CSV file with separate columns.
Surnames, names or other data are not required for pure geomarketing. The address data is therefore anonymized and in this way also compliant with data regulations.
We also need a similar address list for the destination addresses, but here the company name should be included so that the locations can be checked manually if the geo-positioning is not clear.
Furthermore, we need the map area set in the campaign layout and information about which type of map – i.e. whether NAVImap or LOCALmap – that we should create. A logo for the destination is also important, because at the destination the service provider should also advertise with their brand. From this we can then create examples for the customer for approval or notification of changes. Only after approval is a project produced.
Of course, we adhere to all data-regulation guidelines, but because we use anonymous addresses this is a bit easier for us. With the coming into force of the data regulations, the sending of direct mail is experiencing a small renaissance, as the sending of e-mails has become more complicated due to, for example, the lack of double opt-ins.
MH: This should be interesting for many of my readers: what does geomarketing cost?
TS: The topic of prices for a project is always a bit difficult. Since many different parameters come together in direct marketing, we calculate each project individually. The costs depend on the address volume, the map area and whether additional GEOservices, such as assignment of destinations, distance or travel time calculations or other supplementary work is required. The more recipient addresses are required, the more the price per map is reduced.
Because of the increasing response rates through geomarketing, the additional costs are quickly recovered.
MH: Last but not least: Although digital printing technologies have been available for over 20 years, they are rarely used to address customers individually and in a highly relevant way. Why do you think that is so? And what do you think about the importance of addressing customers individually?
TS: The technologies in digital printing have improved significantly in the recent years. A few years ago we still had the quality discussions about offset versus digital. Today we see how good the print quality has become in digital printing.
So the possibilities and desires of advertisers have grown and also the expectations and ideas of end customers with regard to a personalized approach. Just an address and a personal form of addressing are no longer enough. In the meantime, advertising must contain much more complex personalization elements so that the customer will be aware of the multitude of advertising materials and does not carelessly put them aside. In addition, the quality of the information in the advertisement is important, because the higher and more relevant and even more interesting it is, the higher is the customer's perception of the company or the advertised brand. Factors such as individuality, quality and – in the case of locations – proximity to the target, trigger emotions and interests in the recipient. This very quickly creates a close relationship between the recipient and the brand.
This interview was originally posted on www.printelligent.de in german language.
You can read it here.