MarTech Breakthrough, an independent organization that recognizes the top companies, technologies and products in the global marketing technology industry, recently selected locr's geomarketing products as the winner of its 2018 Innovation Award for Geomarketing.
Geomarketing technology from locr enables marketers to use the value of location to meet the challenges of modern marketing campaigns. By adding location to their campaigns, marketers are better able to target, attract and engage consumers.
"Harnessing the value of location is certainly one of the breakthrough strategies in modern marketing today," says James Johnson, managing director at MarTech Breakthrough. "locr is a leader in this developing area of geomarketing, and it is leading the way with an innovative approach that helps businesses create dynamic, personalized maps on demand. With this accurate location-based information, marketers are able to nearly walk in the shoes of their consumers, and deliver personalized experiences and services."
"Geomarketing has been proven to improve the ROI of a marketing campaign," says Randy Hardy, who leads business development for locr in North America. "Our history of success, combined with the recognition of the MarTech Award, proves the positive effect geomarketing services have on a marketing campaign."
locr's Award-Winning Geomarketing Solutions
Too often the data marketers use for their campaigns needs improvement. locr GEOservices enables marketers to improve their lists and finely target the addresses of the prospects closest to their customers' locations.
locr GEOservices uses precise latitude and longitude coordinates for an address. The level of accuracy can enhance your address lists so you can better target you campaign and your message.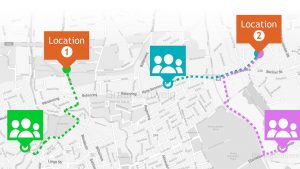 With locr GEOservices, marketers can:
Check their mailing list to ensure it includes valid, real addresses
Finely select their prospect mailing list based on actual addresses not just postal codes
Target a specific message or offer to prospects within a highly-specific geographic area
In addition to improving your mailing list, our locr GEOservices can also be used to include personalized messages in your campaigns. This information can include:
Personalized travel time, walking or driving distance based on the prospect's address.
Turn-by-turn directions that tell your prospects exactly how to get from their home to your business or event.
locr's personalized maps give providers a fast, easy way to add valuable personalization to the campaigns they create for their clients. These maps show customers the routes from their homes to your business and how long it would take to get there.
locr personalized maps are designed to meet a variety of business goals. They can be prepared in many different styles and formats.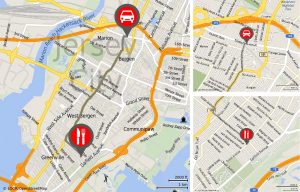 Maps can be created as graphic images for printing or to use in emails or web pages. These can be LOCALmaps, NAVImaps or MULTImaps. They can also be created as videos which can zoom in and out and animate the progress of a journey.
locr personalized maps are designed to meet a variety of business goals. They can be prepared in many different styles and formats. Best of all, including a map in your application is easy. Personalized maps work equally well for printed direct mail, personalized adverts, email, and websites.
For consumers, the marketing messages they receive can be more relevant when location is taken into account. And providing graphical support with personalized maps helps to gain recognition, stimulate curiosity and has a direct practical use for the interested consumer.