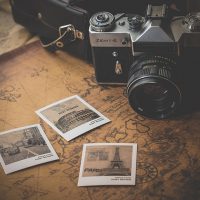 Imagine you are a sailor with your yacht in a port somewhere on the coast of Spain. You want to go and see the Statue of Liberty in the USA. How would you find it? Would you go to Liberty Island, Anchorage Channel, Upper Bay, New York Harbour, North Atlantic Ocean? Or would you set a course for 40° 41′ 21″ N, 74° 2′ 40″ W?
Or perhaps you want to send a letter to the British Prime Minister. Would you write to "The Prime Minister, 51° 30′ 12.23″ N, 0° 7′ 39.5″ W"? Or should you address it to 10 Downing St, Westminster, London SW1A 2AA, United Kingdom?
Geodata Then and Now
Both ways of defining a location on the earth's surface are correct. They each refer to the same place. But of course, one is a way that sailors have used for centuries. Everywhere at sea and on the coast has a latitude and longitude co-ordinate even if it doesn't have a name. The other way evolved for sending letters and going to places on land. It's not a co-ordinate, but an address. Postal addresses are usually organised in a hierarchy from country, through province, district, town, neighborhood, street and finally, a number or name of a house.
Nowadays, maps are created from vast databases of digital data. This "geodata" is really just a mass of points (actually latitude and longitude co-ordinates) connected by lines and grouped in shapes to form geographical areas. All these bits of data can have labels, which are used to colour a map (green forests, blue rivers) and to print names on them (Mount Everest, The River Nile, New York City).
We never needed to know the latitude and longitude of postal addresses. Until now. But to set a route to an address on a Satnav or create a personalized map for a direct mail campaign, the precise latitude and longitude of the address has to be found so that the map can be drawn or the route calculated. We call it "geocoding" and it's the first thing we do with the address lists that you send to us or upload to the locr Batch Tool.
We use a variety of databases for looking up the geocodes of addresses. It's an art as well as a science. Every zip code or postal code has a precise latitude and longitude that defines its sort-of 'middle'. Most streets can be found in a database of geocodes. But quite often individual houses and buildings have never been recorded in any geo-databases. And some postal addresses don't even have a real location – e.g. PO boxes.
Optimize Your Address Data
For customers that use the locr Batch Tool we have just introduced a smarter way of geocoding and validating your addresses. Now, when you upload an address list, we tell you exactly how precisely each address has been geocoded – house level, street level or ZIP/postal code level. You can then choose whether or not to create maps when we cannot find the exact house or building. For most applications, house or even street precision is fine. And in the worst case, we can usually locate the ZIP/postal code of an address. But you have to be careful about using those – it may be quite a distance away.
Remember, next time you put an address in a Satnav and you end up in the middle of a field, it's because geocoding isn't a perfect science yet. Not for locr. Not for Google. But then remember too, that European sailors struggled to find anywhere in America, never mind precisely Liberty Island, until just a few hundred years ago.