Whether you are mailing to one person or one thousand, relevance is the most important factor in making your campaign a success.
The following are five key tips to ensure your direct mail connects with your prospect.
Know Your Market
Start by asking what market you are mailing to and why they care about your product. Having trouble with that question? Narrow your target audience. The more relevant your message is, the more effective your campaign will be.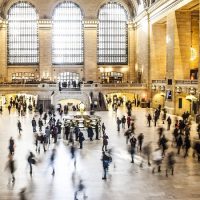 Features are fine, but what your prospects really care about is what your product does for them! So, focus your message on the benefits that are most valuable to the consumer.
For example, if you are a healthcare provider with many locations, you should highlight how easy it is for your customers to get to the healthcare they need.
Whenever possible, segment your mailing list. Use customer data like products purchased, age, or marital status to segment the list and create a more relevant campaign.
And if location is your value proposition, using locr GEOservices lets you finely target your prospects by exact longitude and latitude.
Design with the Customer in Mind
Your direct mail design may reflect your brand, but your customers' needs and habits should also feature prominently in the design.
For example, creative fonts and edgy images are great to use—unless your mailing targets senior citizens.
Personalization, Personalization, Personalization
Include as much personalization as possible in your direct mail. locr's personalized maps, for example, can be created even if the only thing you know about your customers is their address. This type of personalized map immediately creates a connection with the customer.
Contact your local locr representative today to learn how our location-based services can help you leverage the success of your next direct mail project!