It's a phrase often used to refer to the value of a home or business because of its proximity to schools, jobs, shopping, recreation, nature, and so much more. And when it comes to your marketing, location is an important factor that can be leveraged in the design and deployment of a direct mail campaign to attract the attention of prospects.
For 20 years, I've read and analyzed thousands of direct mail pieces from companies and organizations in every vertical. I've seen tremendous strides taken by printers and marketers in using technology to make that mail shine like it never has before. But one development – geomarketing – really stands out because of how it uses data to make the direct mail piece very relevant to the customer or prospect.
Geomarketing, whether it's targeting certain audiences in a specific physical area, or putting a personalized map on a mailpiece, is a great way to differentiate yourself from the competition. More and more, we're using our digital devices to shop and plan our lives. This kind of personalization, when paired with a discount and directions, is a powerful, easy way to get prospects from wherever they are to the door of any business.
How Personalized Maps Add Value to Your Direct Mail
To discover much more about the incredible opportunities presented by geomarketing and personalized maps, please check out this white paper, "How Personalized Maps Add Value to Your Direct Mail."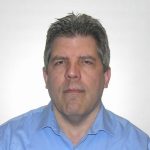 Paul Bobnak is a direct mail consultant and freelance content writer. In almost 20 years with Who's Mailing What!, the world's most comprehensive library of direct mail, he helped customers discover the tactics, offers, trends, and formats needed for successful marketing campaigns. He has created written and video content for Target Marketing, Suttle-Strauss, and United Printing + Mailing, among other companies. He also speaks about direct mail at marketing and printing industry events, webinars, and groups.