When does personalized marketing make sense and when not? Not every marketing message can be relevant to each individual prospect or be relevant to everybody. But how can we manage the span across One-to-One, One-to-Few and One-to-Many?
Gerhard Märtterer, Head of One-to-One-Marketing-Services for the Eversfrank Group, talks about personalization in marketing and how to manage it with the right printing process. An example demonstrates how geomarketing elements by locr are integrated successfully in hybrid marketing.
"Marketers can learn from journalists. From countless news items, journalists select the specific stories that are of interest to their readers," Märtterer says. "If marketers target groups or individuals in the same way, they can better communicate what is truly relevant."

He goes on to note that "superfluous messages waste paper, postage, and, above all, the target group's short attention span for marketing messages."
Creating Messages for Many—and for One
This mix of printing processes gives printers a way to produce highly relevant communications in a cost-effective way.
Märtterer explains:" The borderlines are blurred here: There's no other way than digital print for "One-to-One". Looking at "One-to-Few", it depends on the quantity whether digital print or offset is most suitable.
Hybrid production", he further notes, "is very interesting because we are able to combine the cost efficiency of classic print methods with the variability of digital print."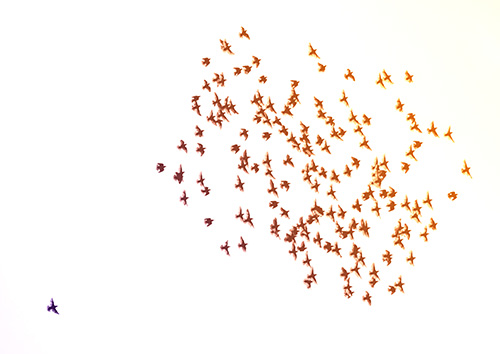 One-to-One and One-to-Many Communications
One of these hybrid examples is a magazine called Auto Bild.
"The content pages of 'Sport Bild', 'Auto Bild' and 'Computer Bild' are printed in classic "One-to-Many". The four cover pages are digital printed for all subscribers. The address and the postal code are already printed on the cover, so there is no need for an additional address label. But the best thing is that a car manufacturer can place the retailer's address that is nearest to the subscriber's address on the cover page and invite the reader for a test drive. In cooperation with locr we even generate maps that show each subscriber the way to the nearest car retailer."